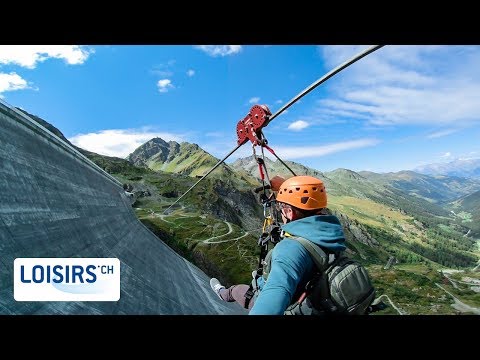 Activité Loisirs
Alpin Line
Take a leap into the void and brush past this concrete colossus for guaranteed thrills!

At 700 metres long, the Grande Dixence zip line is worth the detour. It runs along the wall of the highest gravity dam in the world at an altitude of 2400 m.

The ticket office is in the information pavilion. Checking in your ticket and collecting your equipment is at the top of the Grande Dixence cable car, which runs every 10 minutes until mid-October.

Tarifs
Adults - CHF 25

Single children (from 40 kg up to 16 years of age) - CHF 13

Accompanied children (from 6 years and up to 40 kg) - CHF 10

Groups (from 10 persons *) - CHF 22

Use of the Dixence-Lac des Dix cable car is offered to AlpinLine ticket holders.
Contact
Alpin Line


Only on weekends outside school holidays. Every day from 29.06 to 28 August from 10 am to 6 pm.

More info at: https://shop.alpinline.ch/fr#time_slots
From 20 June to 18 October 2020
Barrage de la Grande Dixence
---
Location / Access
GPS coordinates :
46.080800, 7.406723
---